5 Festivals Mumbai is Looking Forward To!
It's almost the end of July and Mumbai is prepping for the storm of festivals that is about to hit us! Mumbai is one of the coolest cities in India to reside in and our motto is "Go big or go home!" and this motto reigns over our festivals too! No festival is left to be celebrated on a small scale and we love it. Want to know what festivals are most exciting?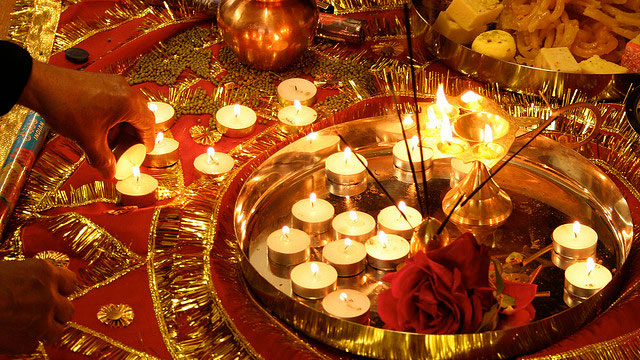 Raksha Bandhan
18th August, Mumbai will be filled mutual admiration and respect for your siblings, for it is Raksha Bandhan! Rakhi is basically a sacred thread of protection embellished with the love and affection of a sister for her brother. This frail of thread of Rakhi is considered as stronger than iron chains as it binds the most beautiful relationship in an inseparable bond of love and trust. Light day time makeup, no embroidery and bright colored salvar kameez' should be apt for this occasion.
Ganesh Chaturthi
Probably the most anticipated festival amongst all the dwellers of Mumbai is Ganesh Chaturthi that celebrates the birthday of Lord Ganesha. The festivities include a life-like clay model of Lord Ganesha that on the day of the festival, is placed on raised platforms in homes or in elaborately decorated outdoor tents for people to view and pay their homage. The priest, usually clad in red silk dhoti and shawl, then invokes life into the idol by the chanting of mantras. After the chanting, a tribute of 21 "modaks", 21 "durva" blades and red flowers are offered. Ganesh Chaturthi comes on 5th September this year. A saree draped on a woman is the best choice for this festival and it gives out an elegant yet sensuous look.
Dussehra
Dussehra which is the celebration of good over evil is an auspicious day for new ventures. Tools of trade, vehicles and machinery are worshiped on this day. The day is celebrated to commemorate the killing of Ravana by Lord Rama, according to the mythological Ramayana. Dussehra celebration spreads the message of the victory of good over sin. People visit the Pooja Pandals wearing new clothes, prepare traditional food at home and celebrate the festival with their friends and families. In Mumbai, the figure of Ravan is set on fire to portray the end of evil. This year, dussehra will be lighting Mumbai up on 11th October! A kalidar with a pair of dainty earrings and subtle bangles is your go to for dussehra because it leaves a woman looking young and radiant.
Diwali
Right after Dussehra, Diwali takes over the minds of everybody and is probably the most highly celebrated festival all over India! The festival spiritually signifies the victory of light over darkness or good over evil, knowledge over ignorance, and hope over despair, after Ram according to the Ramayana, returned to Ayodhya after 14 years of exile and defeating Ravan. People wear new clothes or their best outfits on this day, diyas are lit and prayers are offered to goddess Lakshmi. After offering prayers to the gods, people generally go out and celebrate the joyousness of the festival by burning crackers.  An anarkali is the best choice for Diwali because it exudes a great amount of royalty, traditionalism and beauty.
Navratri
Navratri, literally interpreted as 'nine nights' is the most celebrated Hindu festival devoted to Goddess Durga symbolizing purity and power or 'shakti'. Navratri festival combines ritualistic puja and fasting and is accompanied by resplendent celebrations for nine consecutive days and nights. Defining both the religious and cultural themes, Navratri celebrations are seeped in traditional music and dance. 'Garba' is a devotional dance form that derives from the folklore of Lord Krishna singing and dancing with the gopis using 'dandiya' or slim wooden sticks. During this festival, everyone unquestionably throws on their heavy chaniya cholis and shiny ornaments on, to dance the night away!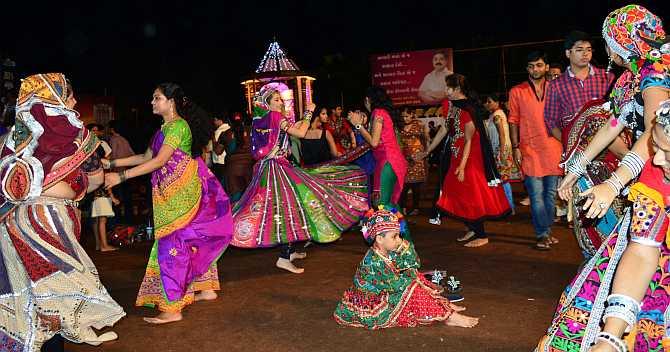 All of these festivals get us in the mood to get up and deck up with fancy ethnic clothes, doesn't it? Expo International has it all for you! From outfits to accessories to footwear to even rakhis, we literally have it ALL! Don't miss out on Shimmer N Style on 19th July, The D'Zine Drama on 21st July and Marwari Shopping Fiesta on 28th July, because they are festivities in itself. So be sure to come and celebrate with us because more the merrier!