5 Parsi food recipes that are finger licking good
Navroz Mubarak!
Parsi food has roots in Persian and Gujarati cuisines and much of the food is a meat-lover's dream come true. Pure vegetarians please excuse the lack of options available for you, though the final dessert is an absolute delight!  Here are our top 5 Parsi food recipes worth cooking –
1. Parsi salli boti
Ingredients
5cm piece of ginger
6 cloves of garlic
100 g ripe tomatoes
1 tablespoon tomato purée
2 small onions
3 tablespoons vegetable oil
5 green cardamom pods
6 cloves
2 teaspoons kashmiri chilli powder or mild paprika
1 teaspoon turmeric powder
850 g lamb leg on the bone , cut into 3cm pieces (ask your butcher to do this)
1 small green chilli
4 dried apricots
2 tablespoons jaggery or caster sugar
1 tablespoon malt vinegar
½ teaspoon cumin seeds
½ teaspoon garam masala powder
1 lime
1 medium red onion
½ a lime
Method
Peel and roughly chop the ginger and garlic, then combine in a blender with 2 tablespoons of water. Blitz to a smooth paste and set aside.
Roughly chop the tomatoes and blitz in the same blender with the tomato purée until you have a fine paste. Set aside.
Peel and thinly slice the onions.
Heat the vegetable oil in a large heavy-based pan over a medium heat. Add the green cardamom and cloves, letting them sizzle for a few seconds, then stir in the onions and fry for 14 to 15 minutes, or until dark brown in colour, stirring often.
Mix in the ginger and garlic paste and fry for 1 minute, stirring well. Add a splash of water to loosen the mixture and scrape off the delicious bits from the bottom of the pan.
Add the kashmiri chilli and turmeric powder and fry for 1 to 2 minutes, followed by the tomato mix. Stir well to combine and cook for 3 to 4 minutes.
Add the lamb and cook for another 5 minutes, ensuring the meat gets coated in the masala.
Slice the chilli lengthways, then stir into the pan with 150ml of water. Bring it to the boil and simmer, covered, over a low heat, for 40 minutes, stirring occasionally.
Pour in another 150ml of water, pop the lid on and simmer for 40 minutes, or until the meat is tender, and the sauce has thickened into a rich, dark colour, stirring a few times and removing the lid for the final 20 minutes.
Make the red onion salad. Peel, finely slice and toss the onion in a bowl, squeeze in the lime juice and season with a pinch of sea salt. Toss to combine and set aside.
Finely chop the apricots, then add to a pan with the jaggery or sugar and vinegar. Cook for 1 minute over a medium heat, then turn off the heat.
Coarsely grind the cumin, then add to the apricots along with the garam masala powder. Stir well, then add to the curry.
Divide the parsi salli boti between serving bowls and serve with the red onion salad, lime wedges for squeezing over, and some basmati rice, if you like.
2. Ambakalya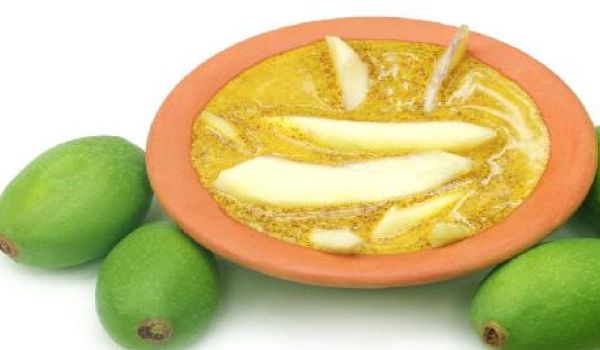 Ingredients
Mangoes (peeled and sliced) – 2
Desi Ghee (clarified butter) – 3 tbsp
Jaggery – 6 to 8 tsp
Onions (sliced) – 1
Cloves – 4
Green Cardamoms – 4
Green Coriander (chopped) – 1 tbsp
Green Chillies (chopped) – 2
Cinnamon (1″ stick) – 1
Salt – 1/2 tsp
Water – 1/2 cup
Method
Take a pan and heat desi ghee, add onions, cinnamon stick, cloves and green cardamoms. Sauté till light brown.
Add the jaggery, mango, green chillies, green coriander, salt and water. Simmer for 2 to 3 minutes on medium heat and mix gently without breaking the mango slices.
Serve with dhansak.
3. Dhansak
Daal:
1/2 cup toor
1/4 cup chana
1/4 cup moong
1/2 cup masoor
1 small eggplant
1 cup of diced pumpkin
2T(ablespoons) dill
1 cup methi (fenugreek) leaves
2T tamarind concentrate
1/2 cup jaggery (goor)
2T coriander leaves with stalks
2T chopped mint
Wet masala:
2 inch cinnamon stick
6 cardamom pods
5 cloves
2t(easpoons) cumin seeds
10 black peppercorns
1T coriander seeds
8 dried red chilies
1T chopped ginger
10 cloves garlic
1 cup chopped fresh coriander leaves and stalks
Dry masala:
3 cardamom pods
3 cloves
2 star anise
1t cumn seeds
8 black peppercorns
2 red chillies
2t methi leaves
Goat:
3T oil
2 lbs cubed goat
1 cup water
chopped coriander and mint to garnish
Method
Wash daal mix with other daal ingredients add 2 cups water and boil for 30 mins.
Then cool a bit and puree in a blender.
Prepare wet masala by roasting everything in a pan for 3-4 mins (stir constantly, do not burn) except fresh coriander
Remove and grind in mixer with the coriander leaves and some water to make a paste.
Roast the dry masala spices separately and grind in a coffee grinder.
Heat oil and cook goat – saute on high heat for around 10-12 minutes.
After goat looks nicely browned, add wet masala and cook 2-3 mins.
Add water and cook on medium heat for 30-40 mins.
Add the pureed daal mixture.
Add the dry masala.
Cook another 30 mins on low heat, or until goat is done.
Tip : You can also use the Same method of dhansak dal with chicken or vegetables for vegetarians.
4. Murghi Na Farcha / Chicken Farcha
Ingredients
8 pieces of chicken
1 tablepsoon (15 g) ginger – garlic paste
1 1/2 teaspoon Kashmiri chilli powder
3/4 teaspoon turmeric powder
1 1/2 teaspoons cinnamon, clove and black pepper powder (1/2 teaspoon each cinnamon powder, clove powder and pepper powder)
2 green chillies
1 tablespoon coriander
1/2 stalk celery (optional)
1 cup water
1 cup ( 150 g ) bread crumbs
2 eggs
Salt to taste
Oil for frying
Method
Wash the chicken marinate with it with salt and ginger – garlic paste. Coat it with the red chilli powder, turmeric powder and cinnamon – clove – pepper powder.
Allow to stand for half an hour. Place the chicken in a heavy bottomed pan along with the green chillies, celery, coriander and one cup of water.
Place over low heat and allow to simmer till the flesh is soft and tender. Remove from the heat without any gravy. Beat eggs and keep aside.
Coat chicken pieces with the bread crumbs.
In a kadai or frying pan, heat oil. Dip chicken pieces in the beaten eggs two or three at a time and fry in hot oil till golden brown. Serve hot with potato chips and green salad.
5. Lagan Nu Custard
Ingredients
1 litre full cream milk
1/2 cup sugar
1/4 teaspoon ground cinnamon
1/4 teaspoon ground green cardamom
A few threads saffron ( optional )
1 heaped tablespoon semolina
6 eggs, beaten
1 teaspoon rosewater
Butter to grease the pan
1/2 cup dried apricots
1/2 cup raisins
1/2 cup almonds
Or any nuts of your choice
Brown sugar to sprinkle on top
Method
Heat milk in a nonstick saucepan. Add sugar, reduce heat to low, stir to dissolve. Add cinnamon, cardamom and semolina. Keep cooking till the milk is reduced to half.
Turn off the heat, stir in saffron and rose water, let the milk come down to room temperature. Preheat oven to 175 degrees C. Add beaten eggs and half of the nuts and raisins to milk.
Grease an oven proof dish, pour the milk and egg mix in the dish. Sprinkle brown sugar on top.
Bake for 35 to 40 minutes or till a knife inserted in the centre comes out clean and the top is caramelised.
Sprinkle the remaining nuts and raisins on top.
Refrigerate till chilled, cut into squares before serving.